Okay people...the 50 free Christmas Cards deal from Shutterfly totally worked. I wish I would've been more patient because I got hasty this morning and ended up making my own Christmas Cards. Soo...when I finally received the promotional code in my e-mail tonight I decided to help my mom with her Christmas Cards instead. We made this fun one up of the whole family.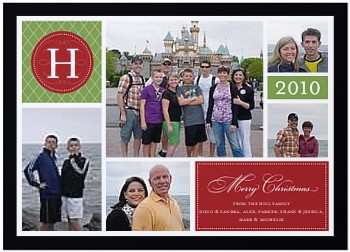 With Love Chartreuse Christmas Card

Precious. And we totally got the 50 free plus we ordered an additional 25 at a discount. And guess what...just for sharing my final project with you, I'll be receiving a $25 credit to Shutterfly to use however I wish. I know...awesome.
So...now we just have to pray that they get here in time to send them out before Christmas. Cross your fingers people.